Bracing Angle – All about lateral stability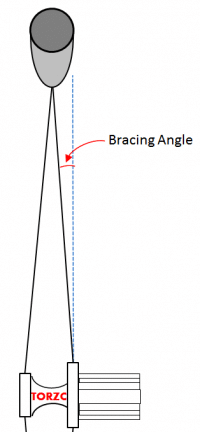 Bracing Angle – It's about lateral stability
Front Wheel
Bracing angle will yield larger as a radial laced front wheel being built elbowed out.  According to a study by Sheldon Brown, lateral stiffness is about 13% higher comparing an elbowed out spokes to an elbowed in constructed wheel.
Rear Wheel
The bracing angle is particular important while a rear wheel is being built.  It turns out to be one of the key factors that affects the tension balance between DS(drive side) and NDS(non-drive side) spokes, and therefore, affects the lateral stability of a wheel.
A higher bracing angle will lead to higher lateral strength and stability in a wheel.  Problems always arise when their is a different in bracing angles between DS and NDS spokes.  Lower tension, caused by lower bracing angle in NDS spokes relating to DS, can cause NDS spokes to go slack under the application of high radial loads.
Keys:
Shorter spokes make stiffer wheels
Higher spokes count, less lateral deformation, makes stiffer wheels.
More about: Rim Design / Lateral Stiffness / Torsional Stiffness / Bracing Angle / Spoke Tension / Lacing Patterns / Bearing Friction